Pregnant Butch: Nine Long Months Spend in Drag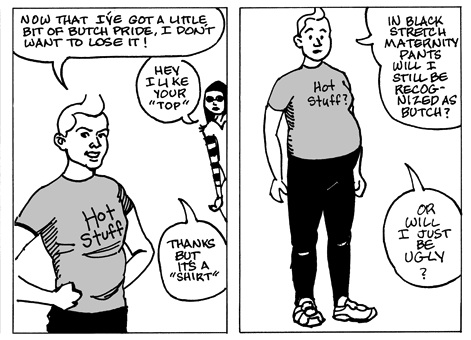 When A.K. Summers first decided to get pregnant, she was worried about pregnancy's effect on her identity as butch: pregnancy is strongly tied to femininity, ties which Summers has worked her whole life to break. This is the exploration of the outside and internal pressures on her gender identity that being a pregnant masculine female creates, as well as being a universal pregnancy story. Summers asks big questions and doesn't always find the answers:
"Does it matter if pregnancy is a wrong state for me? So what if I don't find it deeply satisfying to get in touch with my essential womanhood? Isn't it all right to permit some disjuncture to intrude on one's sense of self?"
Appeal: memoir, pregnancy, lesbians, gender
Art: impressionistic, black and white, stereotyped
Text: Narrative, vernacular
This is Summers' first full-length graphic novel. She has previously published comics online through Activate Comix.

Summers, A. K. Pregnant Butch: Nine Long Months Spent in Drag. Berkeley, CA : Soft Skull Press, 2014. Print.