Boxers & Saints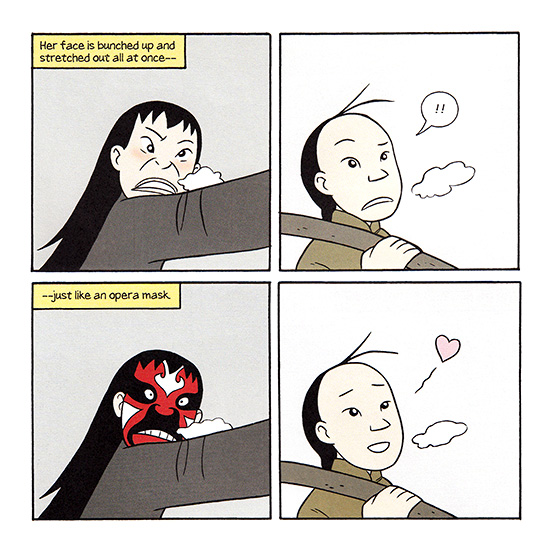 Little Bao's village is terrorized by Westerners claiming to be missionaries working for God, who steal and rob the Chinese peasants. Little Bao is inspired by his own visions of Chinese gods and legends to stand up to the Westerners, and to fight back.
Four-Girl was born doubly unlucky as the fourth girl in her family: the number four is bad luck, and her family has no use for yet another daughter. Her home life is miserable, so when Christian missionaries working in China give her a safe place to belong, she converts and goes to live with them. Visions of Joan of Arc guide her in her new life.
Four-Girl's and Little Bao's lives take very different paths, intersecting twice and ending the same way, governed by religious and political wars, conflict, and intolerance. Readers who enjoyed American Born Chinese will find value in this book as well.

Appeal: history, China, religion, war, high school and up

Art: Bold, definite, fantastical, symbolic

Text: Elements of traditional Chinese storytelling, mostly narration.

Other: Gene Luen Yang has also written American Born Chinese, Level Up, and The Eternal Smile: Three Stories. American Born Chinese wong the 2007 Michael L. Printz Award, the 2007 Eisner Award for Best Graphic Album, and the 2006 Reuben Award for Best Comic Book. It was an ALA Top Ten Great Graphic Novels for Teens in 2007.

Awards: Boxers & Saints had a starred review in Kirkus Reviews and Publisher's Weekly. In 2013 it won the Los Angeles Times Book Award for Young Adult Literature and was a Booklist Top Ten Religion and Spirituality Book for Youth.